HOME's technical process is like no other—We are constantly pushing the boundaries and inventing new ways to dazzle, delight and titillate our audience. Our primary goal is always the same: To give each attendee an experience that will change their lives forever.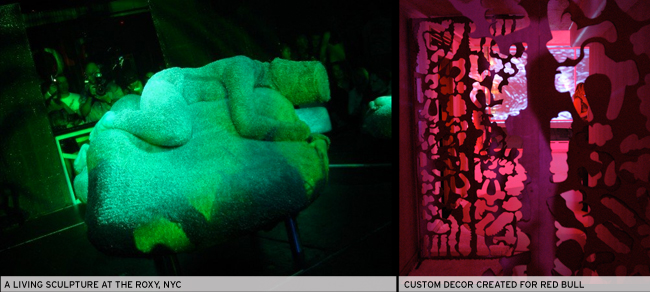 STEP ONE: PLANNING AND RESEARCH



The first phase of our process involves coming to your venue, examining every inch of the space and asking a million questions. How many people are expected to attend? How would you describe your crowd? What are your goals for the event? Do you have any corporate sponsors? How does the lighting system work? How long will the event last? What are your expectations? We are a curious bunch and always searching for unexpected ways to reinvent your space for the event.
STEP TWO: CREATIVE DEVELOPMENT

This is the part where it really starts to get fun. HOME has a highly developed rehearsal process, which involves character development, theatrical storytelling, improvisational group exercises and exploration of different dance techniques—all in keeping with our chosen theme. As our ideas begin to come to life, initial mood boards, color explorations and costume sketches are created to help guide the production phase.
Music is the backbone of our performances and complimenting a variety of musical genres for each event is vital to our creative process. We may choreograph a full production number in order to highlight a specific track, or even build an unfolding story line throughout the night in keeping with the DJ's musical twists and turns.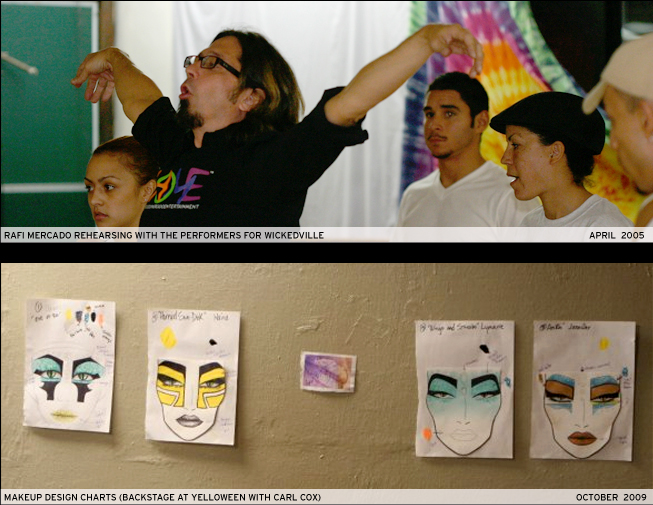 STEP THREE: PRODUCTION AND PROMOTION

The third phase (leading up the big event) consists of costume design, prop hunting, set construction and decoration—Not a small task if you are familiar with our work. Our tireless production crew will work around the clock utilizing carpentry, construction, fabrics and a plethora of other interesting materials to help transform your empty space into an other-worldly maze of visual splendor.
Simultaneously, our dedicated promotional team will direct photo shoots, design stunning flyers and begin to spread the word about your event via social media.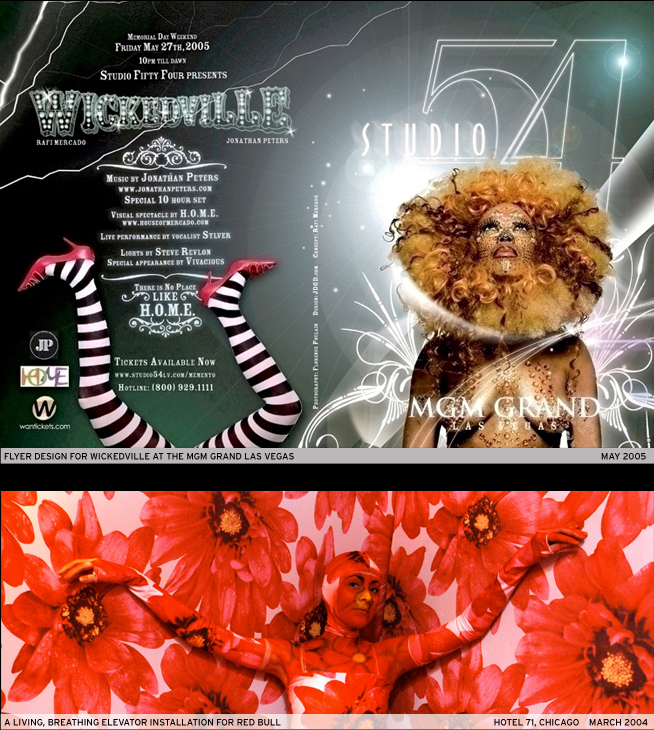 Depending on your event's needs, here are a sampling of some of the additional services that HOME can provide:
Decor inside and outside the venue
Set construction
Specialty acts (Fire, Aerialists, Stilt walkers, etc)
Flyer design
Bartender costumes
Giveaways and other promotional items
VIP pass designs
Multimedia elements
Films
Video projections / Short films